Welcome to Women at The Crossing!
Women at The Crossing is dedicated to helping women CONNECT in community, GROW in faith, and LIVE with purpose.  Our desire is for every woman to experience safety and acceptance in authentic Christian community; equip her with the tools to become a fully devoted follower of Christ; and support and encourage her to impact her world by pursuing God's unique purpose for her.
As women, our lives are full of responsibilities, obligations and roles to fill which means we rarely take time to care for our spirits.  A woman whose life is balanced emotionally, spiritually, relationally and physically is better prepared to meet the demands of life, pursue her purpose and leave a legacy.  The perfect environment to foster balance is in community with other women who are in the same place.  You will be encouraged and challenged by other women who are also pursuing a deeper relationship with God.
Calendar:
Register online for the
spring Bible studies until 2/10/14
9:15am for morning groups and 6:00pm for evening groups-
Tuesday, February 11, 2014 Spring Bible studies begin.
Studies are on Tuesdays unless specified. 
Childcare is available for the morning sessions and paid in full. 
$5/child for 12 weeks=$60/child
Ladies' Spring Tea
Friday, May 9th, 2014 – Mother's Day weekend
Click below to register
Please join us for a fun-filled night of girl time, a meaningful message and worshipful music. See you there!
There are hostess tables available.  A hostess decorates her table for herself and up to seven other guests.
Invite your friends, neighbors, co-workers or anyone who needs to be encouraged.
Open seats will be filled.
The $20 registration included a tea cup, tea and finger sandwiches.
Our keynote speaker is Tasha Levert.  Tasha is a fun-spirited speaker who will encourage us to be all that we were created to be.
2 Corinthians 5:17  Therefore, if anyone is in Christ, he is a new creation; the old has gone, the new has come!
SPRING 2014 BIBLE STUDY
A Women's Small Group Bible study is a great way to get connected with other women who are interested in growing deeper in their faith with the friendship and support of others.  Relationships are built as the word of God is studied together and biblical teachings are applied to our daily lives. These communities develop an intricate system of support to celebrate life's greatest joys and travel through life's toughest moments.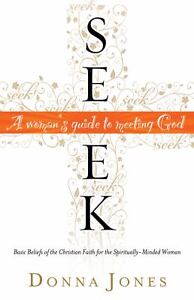 Seek- for newer believers-The Market is chock full of books and Bible studies for well-seasoned believers, but what about the woman who longs to know God but has never cracked open a bible? Seek is a refreshingly real look at the fundamentals of the Christian faith, written for the woman who doesn't know Jacob from Job. Readers will discover answers to essential questions like Who is God the Father, Son and Holy Spirit?, What does it mean to be a Christian? and What is the Bible? In language they and their coworkers, fellow soccer moms and girlfriends will understand. Seek combines solid biblical teaching with engaging explanations to guide the spiritually curious woman on her journey to meet God.
To Live is Christ to Die is Gain- The short book of Philippians is one of the most quoted in the Bible, yet Paul wrote
it not for the popular sound bites, but to paint a picture of a mature Christian faith. While many give their lives to Jesus, few then go on to live a life of truly vibrant faith.In this disruptively inspiring book, Chandler offers tangible ways to develop a faith of pursuing, chasing, knowing, and loving Jesus. Because if we clean up our lives but don't get Jesus, we've lost! So let the goal be Him. To live is Christ, to die is gain—this is the message of the letter. Therefore, our lives should be lived to Him, through Him, for Him, with Him, about Him—everything should be about Jesus. FULL-AM

Revolutionize Your Health … Once and for All During an afternoon of baptizing over 800 people, Pastor Rick Warren realized it was time for change. He told his congregation he needed to lose weight and asked if anyone wanted to join him. He thought maybe 200 people would sign up, instead he witnessed a movement unfold as 15,000 people lost over 260,000 pounds in the first year. With assistance from medical and fitness experts, Pastor Rick and thousands of people began a journey to transform their lives. W
elcome to The Daniel Plan. Here's the secret sauce: The Daniel Plan is designed to be done in a supportive community relying on God's instruction for living. When it comes to getting healthy, two are always better than one. Our research has revealed that people getting healthy together lose twice as much weight as those who do it alone. God never meant for you to go through life alone and that includes the journey to health. Unlike the thousands of other books on the market, this book is not about a new diet, guilt-driven gym sessions, or shame-driven fasts. The Daniel Plan shows you how the powerful combination of faith, fitness, food, focus, and friends will change your health forever, transforming you in the most head-turning way imaginably—from the inside out.
Emotionally Healthy Spirituality- The Christian faith is supposed to produce deep, positive changes. So why doesn't it? Pastor Scazzero did some digging and discovered a bottom line truth: It's impossible to be spiritually mature while remaining emotionally immature. Here he reveals seven steps to transformation that will help you live a life of authenticity, awareness, and hunger for God.
Having a Mary Heart in a Martha World-  Joanna Weaver's popular book shows women how to blend intimacy with Jesus and service for Him. 
An invitation for every woman who feels she isn't godly enough…isn't loving enough…isn't doing enough. The life of a woman today isn't really all that different from that of Mary and Martha in the New Testament. Like Mary, you long to sit at the Lord's feet…but the daily demands of a busy world just won't leave you alone. Like Martha, you love Jesus and really want to serve him…yet you struggle with weariness, resentment, and feelings of inadequacy.
Then comes Jesus, right into the midst of your busy Mary/Martha life-and he extends the same invitation he issued long ago to the two sisters of Bethany. Tenderly he invites you to choose "the better part"-a joyful life of "living-room" intimacy with him that flows naturally into "kitchen service" for him.
How can you make that choice? With her fresh approach to the familiar Bible story and its creative, practical strategies, Joanna shows how all of us -Marys and Marthas alike- can draw closer to our Lord, deepening our devotion, strengthening our service, and doing both with less stress and greater joy.
Stories o
f Hope for the Sleep Deprived was written for the woman on the go. Author Tasha Levert, uses her laugh out loud sense of humor and her out of the box perspective to touch your heart. Her words can make you roar with abandonment, giggle quietly, or even shed a tear. What is boldly evident from beginning to end is how she gently reminds us to live this life well and to find rest in Jesus. If you're tired, overwhelmed, or needing a fresh touch from your Lord, this book is for you. Opened second class in the PM

Unglued-God gave us emotions to experience life, not destroy it! Lysa TerKeurst admits that she, like most women, has had experiences where others bump into her happy and she comes emotionally unglued. We stuff, we explode, or we react somewhere in between. What do we do with these raw emotions? Is it really possible to make emotions work for us instead of against us? Yes, and in her usual inspiring and practical way, Lysa will show you how. Filled with gut-honest personal examples and biblical teaching, Unglued will equip you to: Know with confidence how to resolve conflict in your important relationships. Find peace in your most difficult relationships as you learn to be honest but kind when offended. Identify what type of reactor you are and how to significantly improve your communication. Respond with no regrets by managing your tendencies to stuff, explode, or react somewhere in between. Gain a deep sense of calm by responding to situations out of your control without acting out of control.
James-Mercy Triumphs -For 22-30 year olds, this study will be taught off-campus on Monday nights.  James, Jesus' own brother, started out as a skeptic. See how one glimpse of the resurrected Savior turned an unbeliever into a disciple. Bible scholars compare James to the pro
phet Amos. In other ways, James more closely resembles the Book of Proverbs than any other New Testament book. Topics in this study include: joy, hardship, faith, reversal of fortunes for rich and poor, wisdom, gifts from above, single-mindedness, the dangers of the tongue, humility, and prayer. 8 video sessions with 7 weeks of print study. Beth is introducing a 5-tiered study approach that she has never done before. Level 1: Watch the video sessions only. Level 2: Watch the video sessions and do the homework each week. Level 3: Watch the video sessions, do the homework each week, and, as you study, write out the entire Book of James. Level 4: Watch the video sessions, do the homework each week, write out the Book of James, and complete the "What could I do to go deeper?" section each week. This section is written in collaboration with Beth's daughter Melissa.
Our study Her Choice to Heal is open year round. This study focuses on healing after an abortion. You might be on
e of these women.  Or maybe it's your friend, sister, coworker, or woman sitting next to you at church.  Regardless, post abortive women are in pain, but you may never know.  Many are silent because they are filled with shame, grief and guilt, and they're afraid of judgment and condemnation.  Few realize that peace is attainable through Christ. Dates depend on interest of registrants. Contact Laura Balch lbalch@thecrossingonline.com
 Registration open 1/28/14
Events at Women at The Crossing are designed to energize you, provide a change from the daily rhythms of life and to remind you of the truth that you are valued and loved.  Events vary from seasonal activities to retreats..  This is a great way to connect with other women at The Crossing and refresh your spirit.

Praying for a family member who doesn't know Jesus yet? 
Here is a helpful plan:
God desires, hears and answers our prayers. The 30 minutes you spend in focused prayer will connect you with God and others in a special way. Together we will each pray for the lost from our "God's Most Wanted" list. The names on our list represent individuals who are loved by God and important to members of our group. They represent spouses, children, other family or close friends and co-workers. While you may not know them, God does. Together we will pray, believing God will have HIS way in HIS timing. We are counting on you to pray for each person specifically. Click here to read 5 Steps to iPray.
Get Ready – The week before, begin preparing your mind and heart for your 30 minutes. Clear your schedule, make a reminder, and look around to find a quiet comfortable private place to spend your 30 minutes. It can be anywhere that allows you to focus on your prayer commitment. Make sure you have your Bible, your "God's Most Wanted" list and even a journal, pen and worship music. Whatever works best for you.
Get Set – When your assigned time arrives, begin by reading Luke 15:1-32 to see God's heart for the lost. Pray to have God's heart as you pray for the lost.

WMN NOTE:

See WMN Prayer Pearls for Scripture Prayers for additional scriptures to pray during your prayer time.
GO! – Now pray. Start by praising God for who He is and all He will do. Thank Him for His love for everyone. Then pray for each name. Ask the Holy Spirit to begin drawing the person(s) to God, pray for the Holy Spirit to open the eyes of their heart to God's love. Pray also for opportunities for your group to connect with the people on your list. You can journal your thoughts and prayers if you want, say them in your heart or out loud.
Before you know it the 30 minutes will be up!
Congratulations, you did it!
Now, don't give up! Pray and trust God to do His thing. He has the perfect plan and timing for connecting people to Him. Trust God to use His power and wisdom because His timing is always perfect! Feel free to make this list part of your daily prayer time and see what God will do!
Related Material:
___________________________________________________________________________________________________
Our Women's Ministry keeps growing.  We have a need for volunteers for various positions.   Please help our Ministry go to the next level.  CLICK HERE.
For more information please contact our Women's Ministry Director, Laura Balch at Lbalch@thecrossingonline.com.
WHAT'S NEXT?
If you are ready to get connected to Women at The Crossing, please email Laura Balch at lbalch@thecrossingonline.com.
Visit us on Facebook (direct link)
This will enable you to see upcoming events, meet other women online and receive current uplifting posts.
We look forward to connecting you with Women at The Crossing!